Tosca - RESCHEDULED 2020
Presented by Anchorage Opera
April 17th through April 19th, 2020 — Postponed to 2021
Statement from Anchorage Opera
Dear Friends,
Our deep commitment to our community means that we must 'play our role' in curbing the spread of the COVID-19 pandemic. Your safety and well-being and that of our cast, crew, orchestra, technical team, venue staff and others, is our top priority. We have therefore come to the difficult decision to yet again postpone all performances of Tosca until the spring of 2022 (dates TBA). We are deeply saddened that we are unable to bring Puccini's masterpiece to our community as planned but are working diligently to reschedule it for next season, hopefully with the same stellar performers, designers and technical team.
The postponement of yet again of one of our biggest productions seriously impacts our company financially. But difficult times only serve to reaffirm our commitment to "
Enrich. Inspire. Educate. Collaborate. Build Community, one note at a time
". As we work together to overcome this challenge, we're humbled and grateful in the knowledge that our strongest asset is the continuing support of our community.
You may also use your current tickets for next season's production of Tosca!
If you would prefer a refund, call Centertix at 263-ARTS or submit an online ticket refund request.
Our staff remains available to gladly answer any questions you may have. Please call 907-279-2557 or email info@anchorageopera.org.
We thank you for your loyalty, and appreciate your patience, understanding and support as we strive to continue making magic onstage (and off…) for our community!
With gratitude,
Staff and Board of Trustees of Anchorage Opera
Visit the CenterTix news page for the latest ticketing news and event updates.
Ticket Options
This event has been postponed to 2021.
You have time to consider your options and what will work best for you.

Thank you for your understanding and patience.

Your friends at Alaska Center for the Performing Arts
Venue Information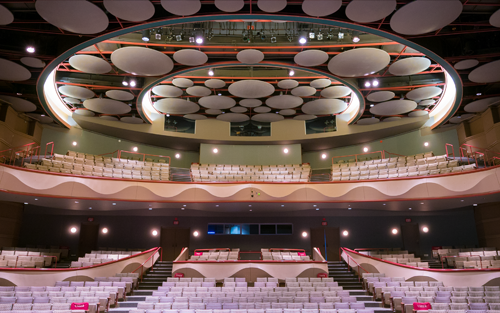 Discovery Theatre
Alaska Center for the Performing Arts
621 West 6th Avenue Suite DT, Anchorage, AK
Website
Map
Parking
Seat Map
Contact CenterTix
Extended Hours Prior to Events:
The CenterTix Box Office is open 90 minutes prior to the scheduled curtain time for all ticketed events at the Alaska Center for the Performing Arts and remains open through intermission (or 30 minutes after curtain time for events without intermission and for Voth Hall events). During these extended hours, the box office will handle business for shows performing that same day only.
Accessible Services
If you already have tickets and are concerned that your current seats may not fulfill your needs, please complete this special seating request form.
Special Seating Request Form
Sung in Italian with English supertitles.
Wheelchair Accessible Seating
All levels of the theatres in the Center have wheelchair-and scooter-accessible locations where patrons can remain in their wheelchairs/scooters or transfer to portable theater seats. Select seats labeled "W" to purchase these seats.
Scooter Accommodations
Scooters cannot be placed in the aisles due to the Center's evacuation plan. Patrons are welcome to transfer to a Center transport wheelchair in the lobby to gain access to permanent seat locations. Devices will be stored in the lobbies.
Wheelchair Accessibility
Courtesy wheelchairs may be borrowed while on site courtesy of the Carolyn Ramey Memorial Fund for access to the seats.
Assistive Listening Systems
Assistive Listening Devices - Sound from the stage is broadcast directly to you by our in-house listening system (Listen Technologies LR-52000-072). This system has a standard 3.5mm output jack, so you can use your own headset or one of our stereo headsets. A limited number of T-coil compatible loop lanyards are also available. Listening devices are kept at the House Manager's station in the lobby prior to and during performances. This service is free of charge, however a deposit or ID is required.
Specialty Programs
Braille or Large Print programs are available if requested at least three (3) weeks prior to the event.
Other Details
Sung in Italian with English supertitles.