Anchorage Symphony's "Season Finale" - CANCELLED
Presented by Anchorage Symphony Orchestra
April 4th — Cancelled
Message from Anchorage Symphony Orchestra
Thank you for joining us, and for supporting your ASO in and out of the concert hall throughout the season. Please enjoy our free Virtual Season Finale with your host, ASO Music Director Randall Craig Fleischer.
Your Anchorage Symphony Orchestra has a long history of bringing our community together — in good and in challenging times. Bringing Great Music to Every Life is our life's work at the ASO.
That's why it's difficult but necessary to cancel our upcoming Season Finale scheduled for April 4, 2020. The quickly evolving public health crisis as well as our concern for the safety and well–being of everyone in our community has led us to this decision.
As our world and our community heals, we ask that you please take the precautions our government leaders and medical professionals recommend. While we in the performing arts love large crowds, now is the time to heed the urging of our leaders regarding social distancing.
While we cannot be together now, let's please stay in touch. In the coming weeks, keep an eye on your inbox and our social media channels as we work on creative ways to stay connected and recall highlights of our season.
The Anchorage Symphony deeply appreciates your support through your ticket purchase to our Season Finale; your options for donating your tickets or receiving a refund are listed below. Please know that when the "all clear" sounds, we remain determined to gather quickly, celebrate jubilantly, and let great music ring again for you — our cherished friends and neighbors.
Visit the CenterTix news page for the latest ticketing news and event updates.
Ticket Options
This event has been cancelled for April 4th.
Subscribers, please go to the Anchorage Symphony's subscriber news page for ticket updates and options.
If you purchased your tickets through CenterTix you have a couple options as well:

You may donate your tickets for this performance. As a non-profit organization the Anchorage Symphony Orchestra will be able to use this tax–deductible donation to support their mission. Please contact the Anchorage Symphony at aso@youraso.org.
You may get a refund for tickets to this canceled performance. Please contact the Anchorage Symphony at aso@youraso.org.
You have time to consider your options and what will work best for you.

Thank you for your understanding and patience.

Your friends at Alaska Center for the Performing Arts
Venue Information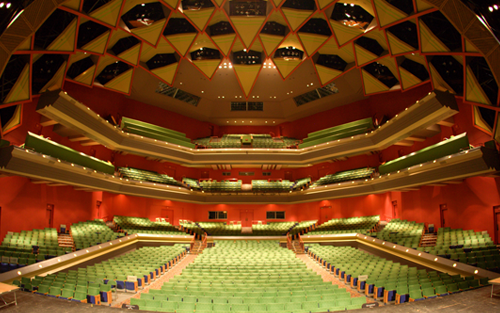 Atwood Concert Hall
Alaska Center for the Performing Arts
621 West 6th Avenue Suite ACH, Anchorage, AK
Website
Map
Parking
Seat Map
Contact CenterTix
Extended Hours Prior to Events:
The CenterTix Box Office is open 90 minutes prior to the scheduled curtain time for all ticketed events at the Alaska Center for the Performing Arts and remains open through intermission (or 30 minutes after curtain time for events without intermission and for Voth Hall events). During these extended hours, the box office will handle business for shows performing that same day only.