30th Annual Melodrama
Presented by Alaska Sound Celebration
February 28th through March 14th
In the 30th annual Melodrama, Jill Preston and Red Logan, Bill and Ted's excellent daughters, must use their fathers' time machine to travel through history and assemble a team of heroes to stop a villain from eliminating music from the world. Join us to celebrate 30 years of rockin' and rollin', popcorn-throwin' good times. It's sure to be most triumphant!
Official Melodrama Statement (updated 3/13/2020)

Dear Melodrama patrons:

Alaska Sound Celebration has received many calls and emails asking if the remaining Melodrama performances are still on. The answer is YES! In partnership with the 49th State Brewing Company we are taking every precaution to ensure our patrons are able to enjoy this fun show. We care about the safety and sanitation of our patrons and their families and have implemented multiple practices to help prevent the potential spread of the virus in our community. If you have any questions or concerns please email us at info@alaskasoundcelebration.org or call our chorus cellphone at 907-566-3987.

We look forward to seeing everyone this weekend! Party on dudes.
Check our CenterTix news page for status updates about events ticketed through CenterTix.
Event Details
Runs approximately 2 hours including intermission.
BABIES — Discouraged. This show is VERY LOUD. Ticket required for all ages.
CHILDREN — Recommended for ages 6 and older. Helpful links to artists and show information will help you decide who is likely to enjoy the show. Please also consider the start time and length of the show when deciding whether to bring children.
Family Friendly: This is a family friendly event.
DAY OF SHOW:

CenterTix sales end at 3:00 PM. The venue box office opens 1 hour before the show for last minute ticket sales and will call.
Venue Information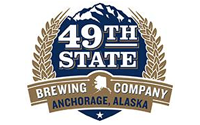 49th State Brewing Company
717 W 3rd Ave, Anchorage, AK
Website
Map
Contact CenterTix
Extended Hours Prior to Events:
The CenterTix Box Office is open 90 minutes prior to the scheduled curtain time for all ticketed events at the Alaska Center for the Performing Arts and remains open through intermission (or 30 minutes after curtain time for events without intermission and for Voth Hall events). During these extended hours, the box office will handle business for shows performing that same day only.
Accessible Services
If you already have tickets and are concerned that your current seats may not fulfill your needs, please complete this special seating request form.
Special Seating Request Form
Wheelchair Accessibility
Some seats have been designated for use by persons with a mobility disability. See map for location.