Airship of Fools - POSTPONED
Check our news page for status updates about events at the Alaska Center for the Performing Arts and events ticketed through CenterTix.
Airship of Fools
Presented by Live Nerds Productions
March 22nd — Cancelled pending reschedule
Additional shows scheduled through July 21st will go on sale soon.
Live Nerds Productions presents Airship of Fools, a friendly neighborhood podcast telling good stories about bad decisions – and boy do we make 'em! If you like improv, comedy and drama, then check out our team of local gamers as they try to outwit the guiding hand of Gamemaster Mike using tabletop roleplaying techniques. Swords! Spells! Airships! Cheese Tea!?? What mischief will our crew of reprobates and rogues get into next? Roll the dice with us and explore a steampunk inspired fantasy world aboard the Rumpshaker, the airship of choice in Tamarlune.
New to tabletop roleplaying? Level up with us! This is a great way to see how the other guys make it happen with live nerds at the table. Knowledge of Dungeons and Dragons not required, just a sense of humor. Join us for a live recording as our crew chases high adventure and low comedy, for the enjoyment of our podcast audience. Check out previous episodes of Airship of Fools on iTunes.
This event has been cancelled for March 22nd. Check our news page for event status updates and possible rescheduling of this event.
Event Details
Runs approximately 2 hours including intermission.
MATURE CONTENT:

Language and themes
BABIES — Ticket required for all ages.
CHILDREN — Recommended for ages 10 and older. Helpful links to artists and show information will help you decide who is likely to enjoy the show. Please also consider the start time and length of the show when deciding whether to bring children.


Venue Information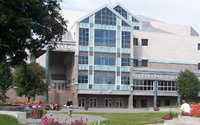 Elvera Voth Hall
Alaska Center for the Performing Arts
621 W 6th Ave, Anchorage, AK
Website
Map
Parking
Contact CenterTix
Extended Hours Prior to Events:
The CenterTix Box Office is open 90 minutes prior to the scheduled curtain time for all ticketed events at the Alaska Center for the Performing Arts and remains open through intermission (or 30 minutes after curtain time for events without intermission and for Voth Hall events). During these extended hours, the box office will handle business for shows performing that same day only.
Accessible Services
If you already have tickets and are concerned that your current seats may not fulfill your needs, please complete this special seating request form.
Special Seating Request Form
All levels of the theatres in the Center have wheelchair-and scooter-accessible locations where patrons can remain in their wheelchairs/scooters or transfer to portable theater seats. Select seats labeled "W" to purchase these seats.
Scooter Accommodations
Scooters cannot be placed in the aisles due to the Center's evacuation plan. Patrons are welcome to transfer to a Center transport wheelchair in the lobby to gain access to permanent seat locations. Devices will be stored in the lobbies.
Wheelchair Accessibility
Courtesy wheelchairs may be borrowed while on site courtesy of the Carolyn Ramey Memorial Fund for access to the seats.
Specialty Programs
Braille or Large Print programs are available if requested at least three (3) weeks prior to the event.