Parlor in the Round - Season 5
49th State Brewing Company
, 717 W 3rd Ave, Anchorage, AK 99501
See Description
Important:
More Info & Show Times
Subscription options for this event.
The list of things that we can achieve in perfect unison as a community is very short. Silence is one of them. At Parlor In The Round our audience holds a "listening room" atmosphere during the performance. Smiles and laughter are encouraged! Sidebar conversations are strictly prohibited.
MATURE CONTENT
: Adult Themes similar to Late Night Talk Shows
MATURE VENUE
: Ages 18 and up are welcome. Minors ages 18 to 20 must be accompanied by a guardian to sit at the bar.
BABIES & CHILDREN — Prohibited.
Discounts and coupon codes are applied after you select your seats.
Prices include all fees. Ticket prices are subject to change.
On Sale Friday, September 28th
Select Your Own Seats
Click on desired section of the seat map below (if available) to choose from available seats.
Tickets stay in your shopping cart

30 minutes

while you continue to shop (10 minutes when shopping on the same day as the show).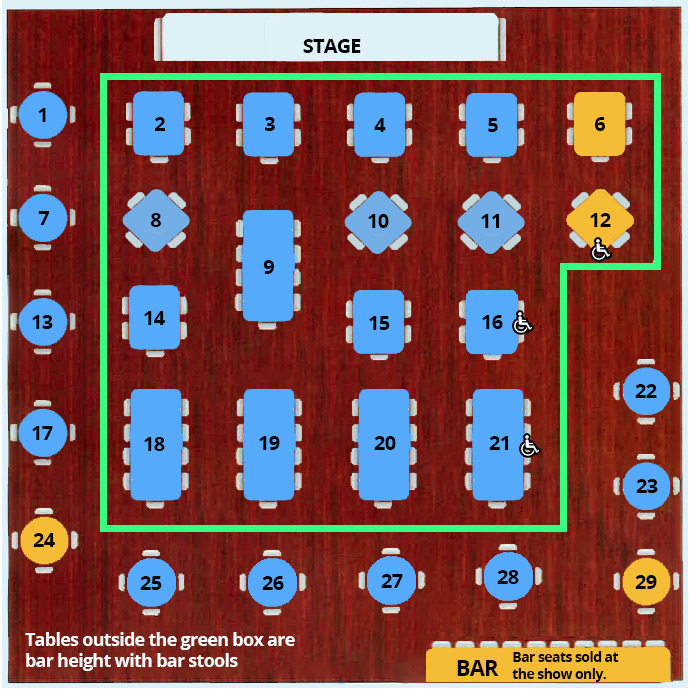 Prices for this Performance
(all prices are US Dollars)