49th State Brewing Company
, 717 W 3rd Ave, Anchorage, AK 99501
See Description
Important:
MATURE CONTENT

: Adult Themes similar to Late Night Talk Shows
MATURE VENUE:

(49th State Brewing Company) Full service bar. Must be 18 or older with valid government-issued ID to enter. Minors under age 18 may attend if accompanied by own parent or legal guardian only.
BABIES — Babies are welcome, but must be removed if they make noise. Ticket required for ages 2 and older. Under age 2 enter free if seated on adult lap.
CHILDREN — Minors under age 18 must be accompanied by own parent or legal guardian with valid government-issued I.D. This show will be enjoyed by adults, and young people who like music and adult themes. Helpful links to artists and show information will help you decide who is likely to enjoy the show. Please also consider the start time and length of the show when deciding whether to bring children.


Arrive early and enjoy dinner in the theater at the 49th State Brewing Company.
Discounts and coupon codes are applied after you select your seats.
Prices include all fees. Ticket prices are subject to change.
Select Your Own Seats
Click on desired section of the seat map below (if available) to choose from available seats.
Tickets stay in your shopping cart

30 minutes

while you continue to shop (10 minutes when shopping on the same day as the show).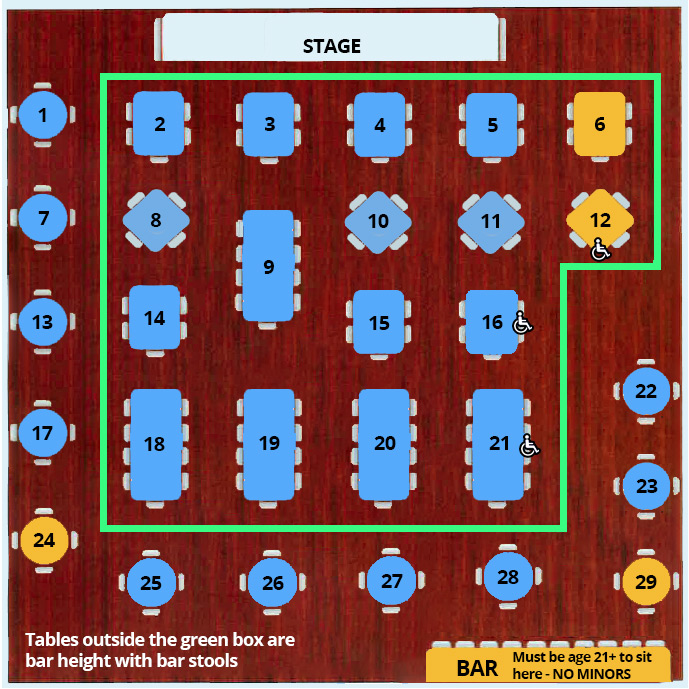 Prices for this Performance
(all prices are US Dollars)
| | |
| --- | --- |
| | |
| | |
| | |